Welcome To

Los Chavez

Volunteer Fire Department

District 7










The Los Chavez Fire Department is an ALL Volunteer company, located in
the heart of Valencia County, New Mexico, between Los Lunas and Belen
on Highway 314.  It was formed in 1962 and Frank Sedillo became the first
Department Chief.  Currently we have 34 volunteers on the roster, most of
whom are certified as NM Firefighter I and EMT-B as a minimum.  The
present day staff consists of:

    Department Chief -- Brian Culp III
    Assistant Chief -- Mike Brophy
    Rescue, (EMS), Captain -- Becky Culp
    Rescue, (EMS), Lieutenant -- Jon Akaba
    Fire Captain -- Tina McCraw
    Fire Lieutenant -- Rodney Barilleaux
    Safety Officer -- Gary McCraw

The area served encompasses approximately half of the county, reaching
the Highland Meadows area to the West, with an estimated population of 
the region around 15,000.  The department also provides Mutual Aid per
agreement with all other departments in the county.  At the present time,
there is only one station, however, future planning exists for a substation
to be located in the Highland Meadows Subdivision, (on highway 6, near
I-40, by Laguna).  This second station will greatly enhance service to our
community resulting in substantially improving our response time.  Due to
the lack of adequate coverage in that area, we are finding that up to 30
minutes in response time can occur... we find this to be unacceptable in
all emergency situations.

The department utilizes two engines, one approximately 10 years old which
carries 1200 gallons of water and the other being 25 years old and carries
750 gallons of water; two tankers with capacities of 4000 and 2000 gallons;
our pride and joy, a brand new Rescue/Aid Unit purchased in August of 1997; 
a Rescue/Squad Unit which carries approximately 300 gallons of 
water, foam supply and MVA rescue tools; and last but not least, our brush
truck, which was a "hand-me-down" from the US Forest Service and is
actively utilzed for the accessibility to brush fire locations.
Annually, LCVFD responds to an estimated 150 calls for fire emergencies
and approximately 300 EMS/Rescue calls.  Fire calls peak twice a year,
during summer with the brush fires and Christmas with structure fires.
Because the personnel are all volunteers, training presents a challenge
due to the limitations and time availability of the individuals.  To
counteract this, the department holds weekly training meetings informally
and formal training dates are always posted for those to take advantage
of them at the department's expense, utilizing the EMS Academy, 
UNM-Valencia and the NM State Fire Acadamy in Socorro. Though limited,
the department  has reached various levels, such as HazMat Level 4, 70%
of members holding EMT-B and 80% with Firefighter I certifications.

Our department, as with all departments around the world, has an
atmosphere and camaraderie which is very personal and "family-like". 
This personal, "family-like" air results in our caring greatly about each
other, and other brothers and sisters in all emergency response services 
and of course our community that we provide service to.  We hold 
"get-togethers" and "pot-lucks" at various times throughout the year and 
actively support, and are associated with, a variety of organizations:

    "MADD"
    "Missing Children"
    "Toys for Tots"
    IFSTA
    OSHA
    Volunteer Fireman's Insurance
    New Mexico Firefighters' Association
    International Association of Fire Chiefs.

If you get a chance, drop on by, say hello, and we'll be glad to show you around our department and meet some of our members.
Until then ...

May the good Lord be with you and watch over you and yours'
Stay Safe, Be Safe, Work Safe...



Photo Gallery
Photos of the vehicles we utilize
department personel doing what we do best,
and some great shots from the New Mexico Firefighters Training Academy.
If you can, take a few minutes and check them out.

Fire/EMS Stories and Poems

What Is A Fireman?

The Fire Fighter

Fireman Prayer

Battling The Beast



National EMS Memorial Service Web Site



National Moment of Silence
Purpose of this site is to provide information on the National Moment of Silence Project to the members of the EMS community.

National Firefighters Memorial


Created as a tribute to the men and women of America's EMS systems who have made the ultimate sacrifice and given their lives in the line of duty.









Links To Other Firefighting and Emergency Response Sites


Women In The Fire Service
This link is dedicated to all the women who risk their lives to protect and serve their communities and is a "MUST". Poems, communication, links for WFS and even a featured firefighter of the month.


Hudson Valley Emergency Services Home Page
Links to emergency services in the Hudson Valley Region of New York and surrounding areas. "Out of Area" links with 29 out of 50 states being represented. Also includes a "new" International Links Page.


Lifeguard 1
Setting the pace in Aeromedical Transport. Based at University of New Mexico Hospital, one of the best trauma centers in the country.


10-75.Com
Current Fire/Rescue headline news, stories from around the country. Fire related software and downloadable pics. Shop for Firefighting products. Live chat with other firefighters and emergency response personnel.


Firefighting.Com
Fireline News, Headlines. Fire Watch Reviews, Products. Links to "Firenet" Radio Network (RealAudio 4.0). Download your favorite posters and prayers, such as "The Fire Fighter", "EMT's Prayer", "Firemans' Wife", "Fallen Brother", and many more...


Firesafety.Com
Fire safety tips provided by the FDNY Fire Safety Education Fund.


USFA FEMA
United States Fire Administration... The name speaks for itself. Pamphlets, books, videos, education kits and reports all free for the ordering.


Fire-EMS.Net
Latest FEMA Bulletins, message center, live chat, free department home pages and listings of upcoming events... Check it out!!!!...


911 Fire Police Medical Web
Your one stop Emergency Services Site. Provides links to HUNDREDS of sites from around the world, divided by category, all related to the world of Emergency Services.




Where Do Fires Begin?
USFA Facts:
Kitchen: 39%
Bedroom: 13%
Living Room/Den: 8%
Chimney: 8%
Laundry Room: 4%






"The E.M.S. WebRing"
Enter the ring and E.M.S. Cyberspace, but please bookmark this site first. Thank you.
Follow the ring for "quality informative E.M.S. related sites!"
/ Next Site /
/ Skip a Site /
/ The Next Five Sites /
/ The Previous Site /
/ A Random Site /


The Emergency 911 Ring is owned by CodeRN2
This Site you're looking at is owned by SmokEater734

[Next Page Skip It Next 5 Prev Random]


Want to join the ring? Get the information









We are very proud for the oportunity to display these awards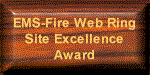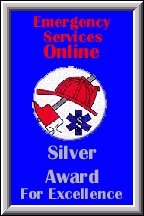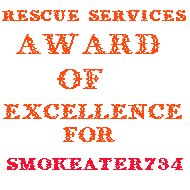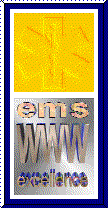 Thank you for visiting our page!
You are #


Please, take a moment and sign our guestbook.

Click on the graphic to vote for this
page as a Starting Point Hot Site



I would like to thank Kristine736 for writing our department description and Mysstique for scanning our department patch, hp fine tuning and her support for the Missing Children Foundation...
A personal "thank you" to you both...
This page is still under construction, so please bear with me... If you have any comments or sugestions, please contact me at rod734@lobo.net , Thank you... alias: SmokEater734...